Vineland's Greening the Landscape Research Consortium is led by Darby McGrath, PhD, Senior Research Scientist, Environmental Horticulture and Program Leader, Plant Responses and the Environment. The consortium team is working to build the collective capacity of the urban tree value chain by developing and mobilizing scientific knowledge within our growing collaborative network.
The consortium approach integrates science and innovation, collaboration, knowledge mobilization along with operations and delivery to support decision-making capacity.
Our approach is based on Vineland's own research that for more than a decade has identified opportunities and challenges in urban forestry.

FAQs
What is consortium research?
Consortium research refers to programs or projects in which a number of partners and/or companies, together with researchers, address common research topics.
The purpose of the consortium research approach is to undertake science and innovation, promote collaboration between practitioners and researchers and facilitate knowledge mobilization across the network.
Consortium research by its nature is an iterative process; therefore, as new challenges emerge within and along the value-chain, the process allows for the redefinition of priorities as part of the feedback loop, helping the value-chain navigate the future.
How is the consortium funded?
The consortium is funded by industry partners through a paid membership. Membership fees are for a set term and members are encouraged to renew their membership at the end of each term. 
Various levels of consortium membership are available to interested organizations along the urban tree value chain, including municipalities, conservation authorities, provincial governments, non-governmental organizations, suppliers, nurseries, landscape professionals, architects, professional associations, developers and consultants. For more information on membership and benefits, please contact researchconsortium@vinelandresearch.com
What can I expect from my consortium membership?
You will have the opportunity to collaborate with peers across the country to address challenges and identify opportunities for advancing the urban tree value chain. Through a network of real-world, long-term research trials, you will gain access to new and existing knowledge, resources and tools to support work in the field.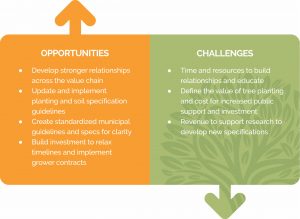 How do I become a member?
Membership is open twice annually for summer and winter intake.
Summer intake – April 1 – September 30
Winter intake – October 1 – March 31
For more information on consortium membership or to request your organization be placed on our wait list, please contact researchconsortium@vinelandresearch.com.